"Winning is not everything, but wanting to win is." – Vince Lombardi
Today we take an in-depth look at a cheap retail play with recent insider buying after the stock's major pullback. A full analysis follows below.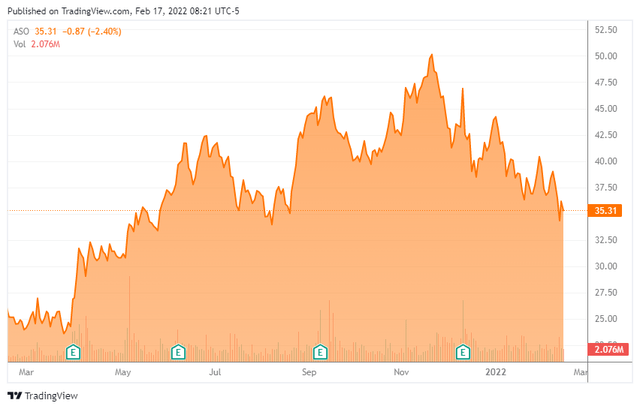 Company presentation:
Academy Sports and Outdoors, Inc. (ASO) is a regional outdoor and sporting goods retailer based in Katy, Texas, with 259 stores and three distribution centers in the South and Southeast United States, as well as an e-commerce site www .academy.com. In addition to selling nationally recognized names like Nike (NKE) and Under Armor (UAA), the company offers a portfolio of 19 private labels. Academy was founded in 1938 and purchased by a private equity firm Kohlberg Kravis Roberts (KKR) in 2011. It went public in October 2020, generating net proceeds of $184.9 million at $13 per share. At that time, KKR held a 68.5% stake, but used the strong share price performance to exit its position of 61.6 million shares during 2021. ASO shares will are trading just above $35.00 per share, which translates to a market capitalization of $3.1 billion.
The company operates on a 52 or 53 week financial year ending on the Saturday closest to January 31.
The company's model is to lease its stores for terms of 15 to 20 years with the greatest concentration in Texas (41% of the total), followed by Georgia and Louisiana (both at 7%). In FY20 (ending January 30, 2021), the company generated the majority of its sales from outdoor (35%), apparel (25%), sports and recreation ( 22%) and footwear (18%) comprising the balance of its product categories.
Sporting Goods Market
It competes in a $70 billion domestic market with similar large format sporting goods stores such as DICK (DKS)outdoor specialty retailers like Bass Pro Shop/Cabela's, traditional sporting goods stores like Hibett (HIBB)shoe retailers like Foot Locker (FL)as well as mass distribution, including Walmart (WMT) and Amazon (AMZN).
The management team turns the company around
In 2017 and soon after, KKR onboarded an almost entirely new management team (seven of the current nine senior executives), which invested $50 million in omnichannel capabilities, including online shopping, pickup store, in-store shipping and curbside pickup, all supported by a revamped website. It also began to downsize certain product categories like electronics and luggage in favor of more popular and profitable lines like team sports and fishing. Academy also launched a credit card, which was used in 4.5% of transactions in fiscal 2020.
Management's initiatives paid off, with the company earning $3.83 per share on revenue of $5.7 billion in FY20, representing increases of 275% and 18%, respectively. % compared to FY19. In addition to programs, the company has been aided by Dust Bowl-like migration to the South, as 29% of its properties are located in five of the ten fastest growing metropolitan statistical areas. The average storefront generated $22.0 million, or $311 per square foot, and EBITDA of $2.3 million while turning inventory 3.89x versus 2.84x in FY19. As expected, in the midst of the pandemic, e-commerce also excelled, achieving 138% growth FY20 vs FY19 while accounting for 10% of total sales.
The excellent performance in FY20 was not a function of new locations, as none opened during the year due to the pandemic, compared to eight openings in FY19. increased by 16% and capital was invested in updating and renovating properties. One of the stores launched in fiscal 2019 was significant because it was a smaller format (40,000 square feet) compared to its current average store size of approximately 70,000 square feet. This location generated approximately $398 per square foot and approximately 5.3 inventory turns. in fiscal 2020, representing 28% and 37% improvements over its average location, giving the company more options as it seeks to grow. To that end, management has identified over 850 new location opportunities and expects to launch eight to ten new properties per year from FY22, returning to pace in FY18 and FY19.
3QFY21 Results and Updated FY21 Forecast
The momentum generated in FY20 continued in FY21, highlighted by an excellent 3QFY21. On December 10, 2021, Academy reported non-GAAP EPS of $1.75 and Adj. EBITDA of $246.7 million on revenue of $1.59 billion versus non-GAAP EPS of $0.91 and Adj. EBITDA of $145.7 million on revenues of $1.35 billion, representing increases of 92%, 69% and 18%, respectively. Earnings beat Street's expectations by $0.64, while revenue was $100 million higher than expected. Offset store sales rose 17.9%, marking the 6th straight double-digit quarter for this metric. Gross margin improved by 250 basis points to 35.2% as the company needed less promotional activity. The improvement was broad based, with each product division gaining market share year over year. E-commerce was up 26% from 3QFY20 and 147% from 3QFY19.
These quarterly results lifted the company's first nine months of fiscal 2021 (YTD21) to non-GAAP earnings of $5.98 per share and Adj. EBITDA of $842.1 million on revenue of $4.96 billion, representing improvements of 121%, 96% and 21% respectively compared to YTD20.
As a result of these strong results, management raised its non-GAAP EPS outlook for FY21 to $7.26 on revenue of $6.71 billion (based on midpoints of the range) against a previous Street consensus of $6.43 on sales of $6.60 billion.
Review and analysts' comments:
Additionally, the balance sheet was in excellent condition, reflecting cash of $401.3 million against debt of $683.8 million with an additional $982.2 million of cash available under a loan facility. asset-backed as of October 30, 2021. In September 2021, the Academy's Board of Trustees authorized a $500 million Share Buyback Program after purchasing $100 million of its stock from KKR in a one of its public sales in May 2021. Through YTD21, the company had repurchased 8.95 million shares – including 4.5 million more from KKR when it exited the stock via a secondary offering in September 2021 – leaving $254.2 million on his clearance. The cash position would have been higher had Academy not bolstered its inventory by $243 million year-over-year.
The Street is unanimously bullish across the Academy leadership team, with five buy ratings and five outperform ratings with a 12-month median price target of $56. The latest holdout (Goldman Sachs) moved the stock from hold to buy on December 14, 2021 based on its 3QFY21 results. After that report, analysts now collectively expect Academy to generate FY21 non-GAAP earnings of $7.24 per share on revenue of $6.74 billion, followed by non-GAAP earnings. -GAAP for FY22 of $6.20 per share on revenue of $6.68 billion.
Chairman, president and CEO Ken Hicks and board member Brian Marley, who bought 20,000 and 10,000 shares (respectively) in their thirties in the first half of January 2022, are also bullish. . The purchase of the former increased his stake to 440,820 shares.
Verdict:
The opportunity for these insider buys came after the stock fell below $40 per share after hitting an intraday all-time high of $51.08 on Nov. 22, 2021. The only Academy-specific event that has been happening since late November was its outstanding earnings report. As such, the 35% pullback since then is a bit of a headache. Under CEO Hicks and his management team, Academy has grown from a run-of-the-mill sporting goods retailer to potentially best-in-class. It's been printing money while significantly increasing its revenue and earnings since FY2019 and yet trades at a FY22 price-to-sales ratio below 0.5, a price-to-earnings ratio for the 22nd exercise below six and an EV/TTM adjustment. EBITDA multiple of 3.3.
The decline is a function of several dynamics. First, Academy has benefited from the pandemic as consumer shopping habits have shifted within its category and away from other activities such as travel. The market now anticipates a reversion to the mean. Second, most retail stocks are suffering from expectations of lower sales when the Fed starts raising rates in response to the highest inflation in 40 years. Higher rates portend a slowing economy. As such, analysts expect mostly flat revenue growth in FY22, even though Academy plans to add eight to ten new sites over that period. Add worries about inflation, supply chain issues and finding enough staff that currently exist in much of the economy to investor concerns.
Perceptions trump reality when it comes to investing. At the moment, retailer opinions are negative and could possibly get worse. That doesn't take away from the Academy's stellar performance and should set it up for a big upside when perceptions rebound. The change in consumer lifestyles driven by the pandemic may be more difficult than the market thinks. Granted, Academy won't achieve double-digit comps forever, but mid-to-high single-digit comps would still suggest its stock is significantly undervalued.
"The problem with winter sports is that — follow me closely here — they usually take place in the winter.– Dave Barry
Bret Jensen is the founder and author of articles for the Biotech Forum, the Busted IPO Forum and the Insiders Forum